How To Find The Best Virtual Piano Lessons For Adults
How To Find The Best Virtual Piano Lessons For Adults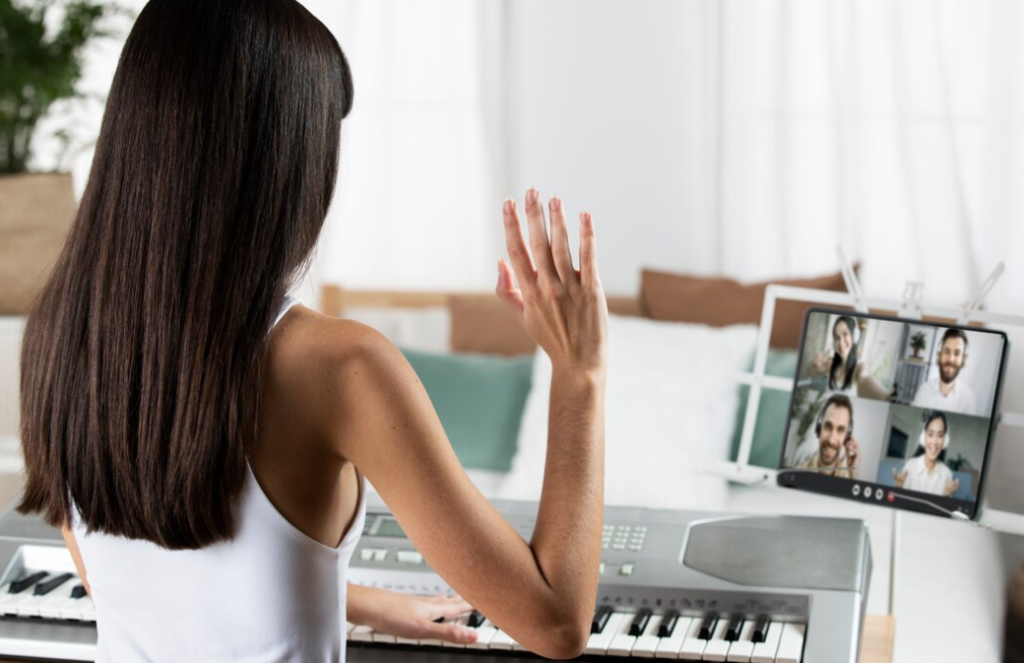 You work all day.
You have always wanted to play piano.
You have an idea- what about learning piano online?
You have been scrolling for months on your phone past the "Learn Piano" apps & sites.
You imagine the serenity and the sanctum of your life while your fingers tickle the ivories.
Now you have a keyboard and you want to make a decision.
Do you like the convenience of online or are you at least interested in it but you feel a little lost and alone.
You are not alone! Let's spend some time making sure you can find some virtual piano lessons for adults, not kids.
I can't tell you how many times I've been asked, "Can an adult take piano lessons?" While it may be embarrassing to ask- kind of like asking if an adult can jump on the kids' trampoline at the birthday party…. however:
The answer is yes, but I believe it comes with a catch. Most "studios" that offer these lessons in your neighborhood are probably geared toward kids with the comic sans writing on the walls, and kid-based pictures of performances….
…. And lots of kids all around you. Whether or not you like kids, it's nice to be around your element, you know?
It's no wonder why people ask if an adult can take piano lessons! You may feel very out of place at a music school with little Tucker climbing on an amplifier while a mom whispers frantically "Please don't do that (laughs nervously and dies inside)"! But maybe, just maybe, virtual piano lessons are for you. I'll go through some very helpful links we recommend so we can get you on your way.
Best Virtual Piano Lessons For Adults
(These are Online Lessons so be aware!)
With a full-featured, interactive app on their website that allows you to connect with a live instructor, you can learn from anywhere, from the best all over the world. What do you get? Adults teaching virtual piano lessons for adults!
Brought to you by Real Brave, this gives you the opportunity to meet 1-1 with a live instructor and it has dozens of features to help you learn, understand, and track your progress. It's the easiest and fastest way to learn online and there are so many opportunities to get virtual piano lessons for adults with dozens of available instructors.
Recently bought by Microsoft after years of thriving as a national brand on its own, Take lessons leverages the popular Microsoft Teams software and Take Lessons' reach to connect teachers to you. They have a vetting and training process that almost ensures your success. An easy and affordable way to get started if you are looking for virtual piano lessons for adults
What better way to learn your favorite Rock songs than by enrolling in School of Rock Online®. Most keyboard parts in today's (and yesterday's) music can be broken down into simple parts. School of Rock's patented curriculum will certainly get you there if you are interested in Joel, not Bach. Here, virtual piano lessons for adults will probably be dialed into rock & metal, so take note of that.
I know the challenge- personally it's a huge step to decide that you want to do this. If you are anything like me, you want someone you can relate to, you want someone that will work with you and be there for you. Great news: they are out there. Use the above suggestions to start your journey and make sure to hang in there. It's not a short stroll, it's an adventure that lasts a lifetime.
Daniel Powers Jr., the founder of Real Brave™, serves as the chief inspiration to thousands of students in the Real Brave music instruction program. He's also the visionary behind PracticePad™, an online platform for live one-on-one music lessons, lesson tracking, and scheduling. Beyond his entrepreneurial pursuits, Daniel leads a non-profit organization that provides formerly homeless children with access to music education, making a profound impact on their lives. His unwavering dedication to music, innovation, and education continues to inspire individuals to reach their fullest potential while creating positive change in communities.