iPhone 15's 'Wonderlust': Beginner Guitar Lessons Have More Play
The buzz around the latest iPhone release is a yearly, undeniable event. Apple's recent unveiling, if you will, was led by Tim Cook and has ignited excitement among tech enthusiasts once again. On September 12, 2023, Apple hosted its "Wonderlust" event, a somewhat relaxed and normal event that saw the curtain rise on the iPhone 15 series, fresh Apple Watch iterations, and an innovative USB-C charging case designed for AirPods Pro.. Among the highlights of the event were the introduction of four distinct models within the iPhone 15 series: iPhone 15, iPhone 15 Plus, iPhone 15 Pro, and iPhone 15 Pro Max.
Where were you in 2008 when the iPhone was unveiled? Did we imagine a world where everything would be done on our phones? Did we know we would be here? Waiting on new phones every year and glued to the screen in our everyday lives?
But beyond the new device, there's a world of opportunity for those looking to embrace the digital age of music education. If you're passionate about learning the guitar, the time has never been better, and your iPhone is your ticket to unlocking your musical potential.
The Power of Online Music Learning
Learning to play a musical instrument has never been more accessible. With your iPhone in hand, you have a world of resources at your fingertips. Whether you're a complete beginner or seeking to refine your skills, the App Store offers a bunch of pretty decent, OK, options. Let's dive into the world of online guitar learning and explore why it's so powerful.
Best Free Guitar Learning Apps
Yousician: Yousician offers a free platform for aspiring guitarists. With its interactive lessons and real-time feedback, you can start your guitar journey with confidence. The best free guitar learning app on the market, it guides you through chords, strumming, and even reading sheet music for guitar.
Fender Play: Fender Play is another gem in the world of free guitar apps. It provides step-by-step lessons for beginners, covering popular songs and essential techniques. Whether you aspire to play rock, blues, or acoustic melodies, Fender Play has you covered.
Personally, and I am biased here, I think that learning guitar online should be live 1-1 with an instructor that gets you. There aren't many companies out there that do what Real Brave does and it's worth checking us out. But you are the owner of your destiny. The apps above do a great job getting you the basics on the cheap.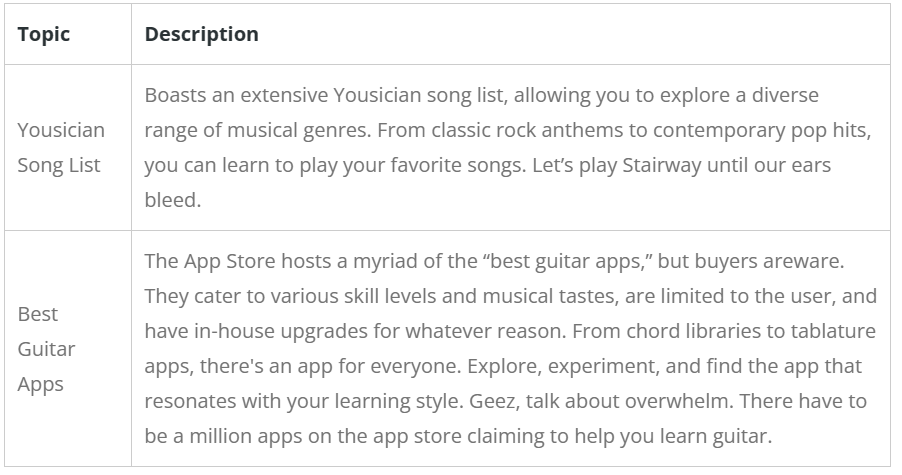 The Perfect Companion: Your iPhone
Why is your iPhone the perfect companion for online guitar learning? Here are a few compelling reasons:
Portability: Your iPhone is portable and versatile. You can practice chords and scales wherever you are, whether it's in your living room or on a park bench.
Interactive Learning: Online guitar apps provide interactive lessons with video tutorials and instant feedback. Your iPhone's screen becomes your virtual guitar instructor.
Progress Tracking: Many apps offer progress-tracking features. You can monitor your improvement over time, making learning more motivating and rewarding. Dude, take your guitar with you anywhere and learn. What a world.
Seize the Opportunity
You've got more power in your pocket than ever before.
You've got more power in your pocket than the first rocket ship to the moon had.
So why not take advantage of it?
Online guitar lessons are affordable and convenient.
They are a click away!
If you are looking to purchase an iPhone 15 this year, find the best guitar app for beginners immediately (that's not a request that's a command, friend)
One that empowers you to achieve your musical goals.
Don't miss out on the chance to learn the guitar with all these incredible (endless) free apps to learn guitar. Whether you dream of strumming acoustic ballads or shredding electric solos, your iPhone is your gateway to musical excellence.
So, what are you waiting for? Pick up your iPhone, download the best app for learning guitar for beginners, and let the music begin.
Daniel Powers Jr., the founder of Real Brave™, serves as the chief inspiration to thousands of students in the Real Brave music instruction program. He's also the visionary behind PracticePad™, an online platform for live one-on-one music lessons, lesson tracking, and scheduling. Beyond his entrepreneurial pursuits, Daniel leads a non-profit organization that provides formerly homeless children with access to music education, making a profound impact on their lives. His unwavering dedication to music, innovation, and education continues to inspire individuals to reach their fullest potential while creating positive change in communities.