Warning: The Acoustic Phenomenon That's Changing Music Forever!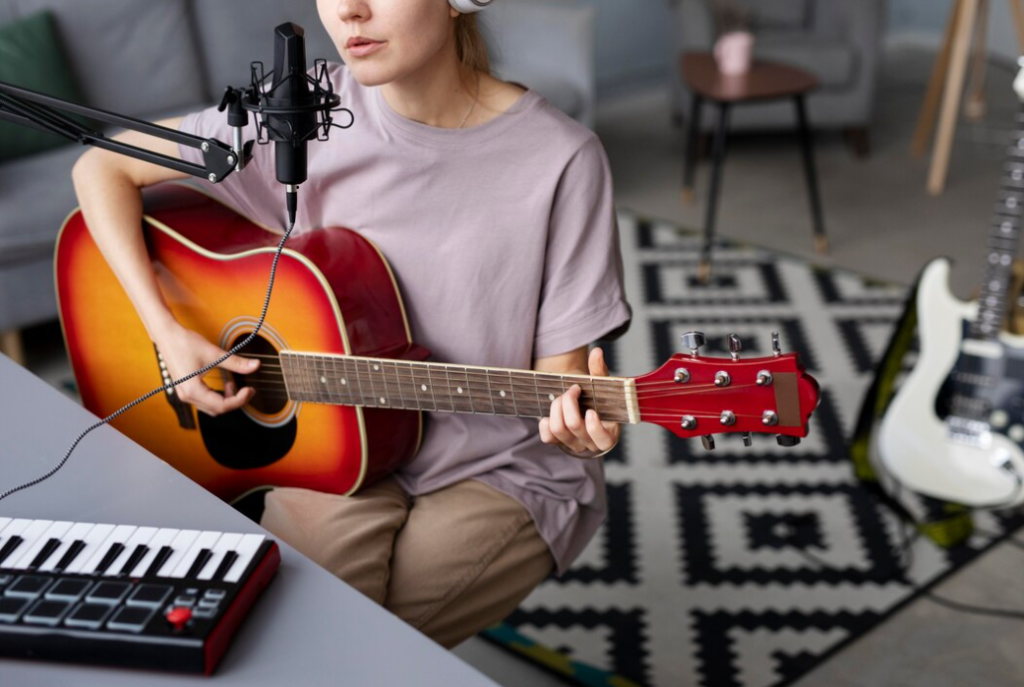 If you are anything like me, you are constantly looking for new music or you just enjoy listening to other people play your favorite music. Whether you are a prospective songwriter or a music consumer, we are surrounded (inundated) with so much music it's hard to keep track of what is good.
Before your FOMO kicks in, relax. I am not about to tell you what you are missing out on. But I will show you a way to relieve some stress and maybe give someone else a way to listen to something they like (or maybe just give them FOMO)
In today's digital realm, ironically, the acoustic (digital v acoustic are somewhat parametrical) guitar music remains resolute and has a foothold in the video content we consume. From the swell of covers on YouTube, TikTok, and Reels, to the countless enthusiasts searching for the best acoustic guitar for R&B (that always sounds so good) or even how to "tune my acoustic guitar," the acoustic guitar stands as a timeless beacon in a rapidly changing world.
The Digital Resurgence of Acoustic Covers
Though covering songs might be as old as the music, the union of acoustic guitar covers with modern social platforms has caused an unmatched digital revolution. As more artists dive into acoustic albums, there's been a return to the heart with the rise of acoustic guitar instrumental music. This renewed appreciation for acoustic relaxing music and acoustic folk music anchors us amidst the chaotic rush of today's world.
Journeys from the Bedroom to the Big Stage
Several artists have navigated the intricate waters of the digital realm, transitioning from simple acoustic guitar cover renditions to global fame:
Justin Bieber: Found on YouTube, his humble acoustic beginnings evolved into worldwide stardom.
Boyce Avenue: This band transformed their heartfelt YouTube covers into a musical career, gaining a massive loyal following.
Sungha Jung: A young prodigy who turned YouTube into a stage for his captivating acoustic artistry.
Alexandra Porat: Her soulful voice paired with her guitar skills on YouTube has seen her star rise consistently.
Elise Ecklund: Known for her YouTube covers, her transition to TikTok broadened her reach, proving adaptability is key.
Luis Figueroa: His bite-sized acoustic marvels on Instagram Reels serve as a testament to the platform's vast potential.
The Acoustic Revolution on Bite-Sized Platforms
Personally, every time I look at an acoustic guitar cover, I usually find someone who is so ridiculously good, that it's obvious that the world is lacking people like this. Social media gives an outlet to the millions of people that are incredibly good but the record industry doesn't have a place for all of them. I look at the record "industry" as an aging mafia gangster holding all the cards for all artists… but secretly you do not need them. The surge of acoustic instruments on platforms like TikTok and Reels has sculpted a new frontier for musicians. This acoustic storm, if we have to say that, of talent demonstrates the potency of short, powerful performances in today's digital age.
Acoustic Echoes at Dawn
The trend of immersing oneself in Acoustic sunrise playlists or delving into the best acoustic guitar albums as day breaks or night falls showcases the inherent nostalgia and comfort acoustic sounds bring. Seriously:
You are cooking dinner. You scream, "Alexa play…" (You make a playlist name up)
You are thinking as you cry & chop onions, "I'd love to hear acoustic music that sounds soothing" so you say, "Alexa play Acoustic music that makes me relaxed"
She says, "Playing… (whatever)
Then the strings vibrate and you relax slightly.
On YouTube or social media, if you have clicked on one video the algorithm probably has sent more your way.
Discovering the Acoustic Realm
For those charmed by the acoustic universe, myriad online platforms and resources beckon so you can learn acoustic guitar:
Music Theory and Song Learning:
Ultimate Guitar: This platform offers a vast collection of guitar tabs and chords for thousands of songs. They also have a Pro version with more features.
Songsterr: An online tab viewer with play-along features. It's a great tool for learning songs at your own pace.
Music Theory.net: This site offers free lessons and tools for those looking to understand music theory.
Community and Interaction:
r/Guitar on Reddit: A community where guitar enthusiasts share their knowledge, ask questions and engage in discussions.
Fretboard Hero: An app designed to help users memorize notes on the fretboard in a fun, game-like environment.
Online Courses:
Coursera and Udemy: Both platforms have courses on guitar playing and music theory. While Coursera often partners with universities, Udemy's courses are usually taught by industry professionals or skilled enthusiasts.